I believe the Pandemic of 2020 will go down in history as a first ever economic event in the sense that our economy was intentionally stopped, massively stimulated and hopefully restarted all in less than 6 months. It's like we have the Stock Market Crash of 1929, the Great Depression and the Victory of World War II all smashed into less than 1 year. Entire industries have been wrecked while others are thriving.
I can hear you asking "What, exactly is thriving right now?" New companies, that's what. There are technology companies that allow people to work remotely and securely from anywhere without putting their company at risk, entertainment companies that allow us to be entertained at home, and even an alternative food company. What they all have in common is that they are growing. Fast.
It may be helpful if I show you an example of a new company that went through a similar episode 90 years ago.
Look at the chart of Coca-Cola below: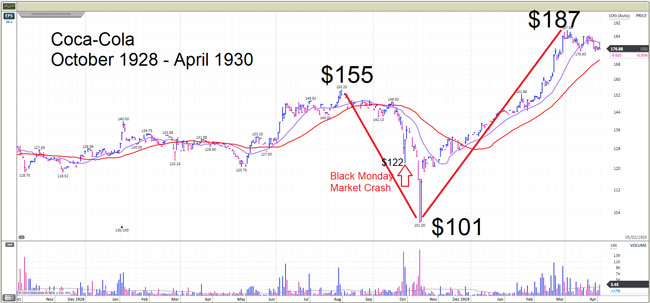 Chart Source: William O'Neil & Company
Coca-Cola debuted on the New York Stock Exchange as a new, young, fast growing company in 1918. From October 1928 to August 1929, Coca-Cola's stock price moved from $120 to $155 then stalled going into the Stock Market Crash of October 1929. The stock dropped to $122, recovered a bit and then fell again to $101 in mid-November of 1929. This was a terrifying time for investors because some people lost everything. In those days, you could deposit $1,000 at your broker, they would lend you $9,000 and then you could buy $10,000 worth of stock! That's 10x leverage and a tiny drop of 10% could wipe out 100% of your initial deposit.
Today, the limits are set much lower at 2x and in my experience, most people do not use any leverage. Also, when a brokerage firm failed in those days, investors could lose everything if their brokerage firm failed. Today, when you hold your assets at a brokerage firm you have some protection. The SIPC® (Securities Investors Protect Corporation) protects investors against the loss of cash and securities held by a financially troubled SIPC member brokerage firm. For detailed information click here: SIPC.
Back to the story: After the drop to $101, the Coca-Cola stock started to recover. It got all the way back to $155 by late February 1930 and then catapulted to $187 about a month later.
Some other companies did not do so well – like Archer Daniel Midland (see below).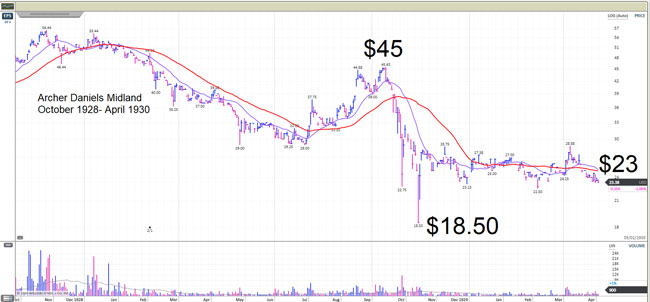 Chart Source: William O'Neil & Company
The key Coca-Cola's stock price success was rapid sales growth, high profitability and a rock-solid balance sheet.
When looking at the balance sheet, the foundation was clearly rock solid: At the time, the company had $6.5 million in cash and no debt, with a current ratio of 18:1.
In 1930, the unemployment rate jumped to 8.7% from 3.2% just a year earlier. Despite the macroeconomic struggles, the Coca-Cola Company generated yet another year of sales, gallons sold, and profits, at $41.3 million, 27.8 million, and $13.5 million, respectively; without missing a beat, the company continued its dividend, paying out nearly 45% ($6 million) of the year's profit to shareholders. (Source: GuruFocus)
Today, we see similar opportunities emerging from rapidly growing, new companies with new products who are operating on sound financial footing. However, not every company's stock will work. It takes discipline and constantly checking in to see how the company is doing. With any luck, we hope to find excellent opportunities for our clients.
I believe investing today requires a long-term financial plan integrated with a well thought out investment approach. If you have questions about how to invest or which investments may make sense for you, schedule an appointment by clicking this link or contact us today at david.cross@us-am.com or 678-894-0697