Although investing has been a part of life for centuries, times change, and so does the environment. What used to work may not produce the same results today. Like all industries and professions, evolutions are taking place in the way money is managed and how advisors conduct business. If you don't have the right advisor caring for your investments, you could be exposing yourself to unnecessary risk or leaving money on the table.
300,000 Advisors
There are an astonishing number of financial advisors in the United States – as of 2014, there were 285,000 according to Cerulli Associates. However, very few have been trained in portfolio management. Chances are, you probably have an advisor, but how do you know if you have the right one? Most people want the best but end up settling for far less. Think for a moment. Based on his or her skills, would you recommend your advisor to your friends and family? Surprisingly, according to a Vanguard-Spectrum study of 3000 investors with a broad net worth from $100,000 to $25 million, only about half would make such an introduction.
Expectations
Expectations are everything. When you think about the ideal financial advisor, what comes to mind?
Are they easy to understand? Do they make sense to me?
Are they actively managing my money or are my investments on autopilot?
When was the last time we spoke or corresponded?
Do they proactively communicate with you to anticipate your needs?
Do they communicate timely, meaningful information?
Could I be doing better with someone else managing my money?
In a perfect world, you would expect to save your money, invest and let it grow; compounding as the years go by. Ideally, those investments would create a healthy sized nest egg from which you would enjoy retirement carefree allowing you to do all the things you've always wanted to. The reality of investor performance is stark. According to DALBAR, over the last 30 years, the average mutual fund investor, (including advisors) has averaged 4% compounded annually, but the market has made over 10%.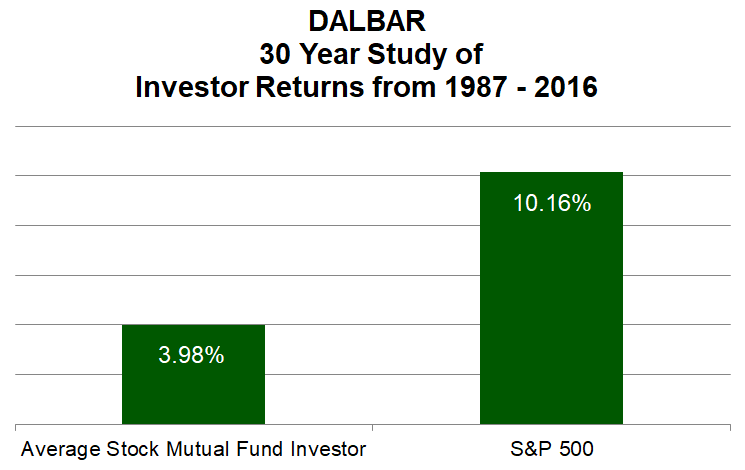 *Source: "Quantitative Analysis of Investor Behavior," DALBAR, Inc., March 2017. This study was conducted by an independent third party, DALBAR, Inc. A research firm specializing in financial services, DALBAR is not associated with U.S. Asset Management, Advisory Services Network or Calton & Assoc. The information herein is believed to be reliable, but accuracy and completeness cannot be guaranteed. It is for informational purposes only and is not a solicitation to buy or sell securities.
The Land of Confusion
Back to reality. What is your first thought when you open your investment statement or performance report? Are you confused by the investments? Are you making progress towards your goals? How can you be sure?
Many people are not well versed in reading and understanding their statements as they should be. There may be very little understanding of how the pieces fit together or what the thought process is for owning various investments. When the market drops, many investors have questions, but they may not pick up the phone to ask their advisor to help them understand their investments. Worse, the advisor may not call them back leaving the investor feeling uneasy.
Statements aren't the only source of confusion. Have you ever listened to a financial advisor and wondered what they were saying? You know they are speaking English but the words don't make sense to you. If this is the case, your advisor has been afflicted with "Finance Speak" – a condition where finance professionals communicate via cryptic code that is nearly indecipherable to mortal humans. Beware – it is contagious among those in the world of investments and you don't need to waste you time learning their language. It's your money so they had better speak YOUR language.
The bottom line
If you wouldn't recommend your advisor to your wealthiest friend, why are you working with your advisor? Find someone who does their homework on investments, who has been trained in investment management and has weathered a storm or two in the markets over the last 20 years. If you're not singing the praises of your advisor, consider making a move. A communicative, knowledgeable advisor that actively manages your money by being proactive instead of reactive is one of the best assets you can have. Find your next advisor by asking the smartest people you know who they use and then interview the advisor and their team before giving them your hard-earned money. You've worked hard for your money – your advisor should work hard for yours!
David Cross, CPM®
Wealth Advisor
Certified Portfolio Manager
U.S. Asset Management
A Member of Advisory Services Network, LLC
Direct: 678-894-0697