June 26, 2018
Yesterday, the stock market dropped over 400 points1 at the bottom as the market reacts to:
President Trump's tough stance on China2 There are a couple of things going on here.

Trump has threatened to impose tariffs on $200 billion worth of goods coming to the US from China. Part of this has to do with encouraging China to lower their tariffs but, more importantly, the President is trying to get China to stop stealing U.S. intellectual property by hacking in to U.S. corporations and,
Trump is looking to limit foreign investment in U.S. companies to less than 25% in an effort to stop appropriating U.S. intellectual property.

China's stock market is down 20% from its high earlier this year.When stock markets overseas decline, investors in those markets will sometimes take money from other markets like the US to add to their positions in other markets or to pay off loans secured by assets held on foreign stock markets.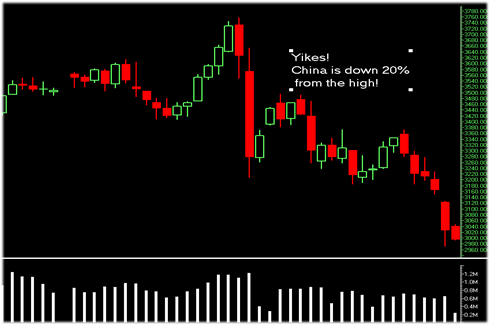 Source: ThomsonOne
The tax reform act has been a huge benefit to small U.S. companies as the tax cuts flow directly to their bottom line. So far this year, the Russell 2000 index of small U.S. companies is up 7.9% 1 – well ahead of the Dow Jones that was up but is now flat for the year. 1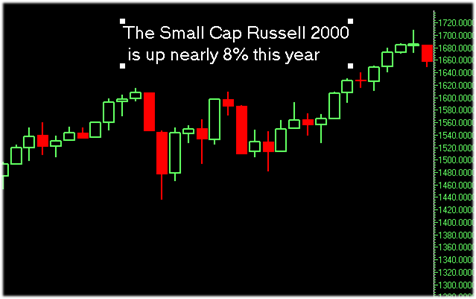 Source: ThomsonOne
Even with these risks, we see a silver lining:
According to US Asset Management's DJIA Implied Pricing ModelTM,if each stock in the Dow Jones Industrial Average reaches its median 12-month price target set by the various analysts at major firms, the implied target 1 year from now for the index is 27,909 or 15% higher than the current quote of 24,253.3
Money flow into U.S. stock mutual funds and ETFs continues to be negative. Over the past 12-month period ended April 30th , investors have pulled nearly $134 billion from stocks and added $256 billion to bonds4 even as interest rates have gone up which is bad for bond prices. What I have learned over 25 plus years of investing is that you often must do the opposite of everyone else if you want to make money. It is not a comfortable thing to do but, in my experience, it can be profitable. So, if most investors are selling stocks, we should consider buying or at least holding on to our current investments.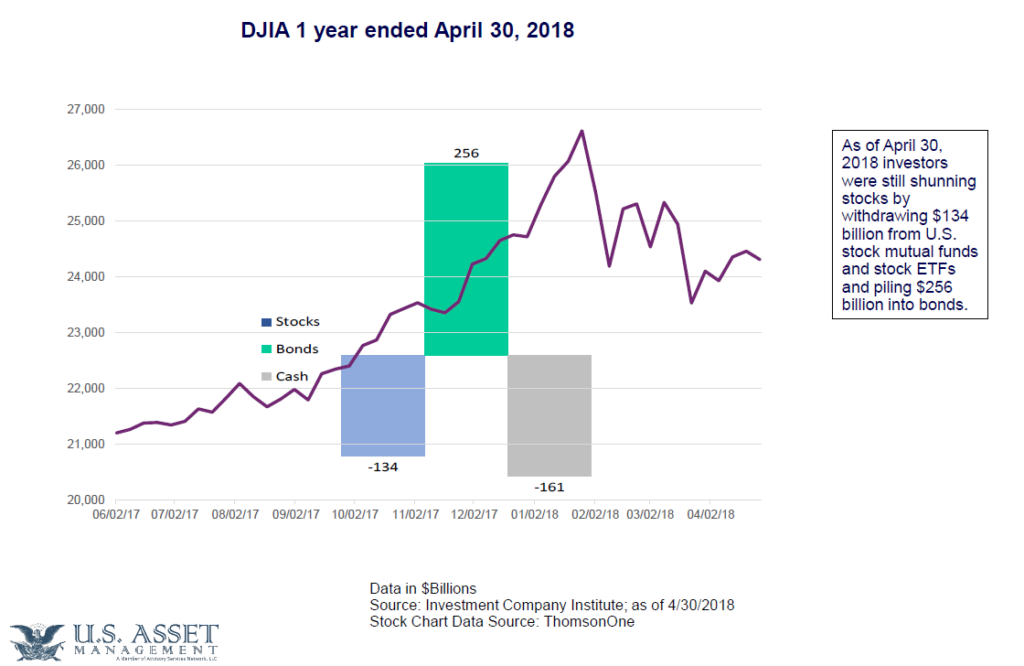 Even with the market bouncing about, I am confident in your investments and I am confident in our process. Many of my clients have the same investments as my mom, so you can be confident that we are monitoring things closely. Hang in there,
trust in our process and let us know what questions you have about your investments. Our job is to manage your investments but part of that is helping you understand what you own and why.
Last, as I always say, if you are bothered by what you see on TV, turn it off! Advertisers love it when there is bad news because they can run a 20- minute loop over and over and rack up the advertising dollars.
1.Source: Thomson/Reuters ThomsonOne workstation
2.Source: CNBC
3.U.S. Asset Management
4.Investment Company Institute