One of the tools that we find helpful is a short-term indicator that reflects protective put option positions of large commercial hedgers in the S&P 500, Nasdaq 100 and DJIA futures. Put options are instruments used to help hedge against declines in stock values. Commercial hedgers are large institutions that are generally regarded as the "smart money". These are the firms who typically manage portfolios in the billions of dollars. The indicator seeks to reflect the dollar value of these large commercial hedgers' positions. The chart as shown below is a one-year stochastic of this data with the S&P 500 on top. If the indicator reads 100, then it means hedgers are the most exposed they have been in at least one year. A reading of 90 indicates that large commercial hedgers have 90% exposure to stocks.
The Hedgers Combo chart tends to be well correlated to the stock market. A reading above 80 indicates that large commercial hedgers are exposed to the potential upside of stocks and are holding few hedges. Conversely, readings below 20 show pessimism on the part of large investors because they are holding a large number of hedges to protect their portfolios from market declines. Readings below 20 are usually a negative sign for stocks.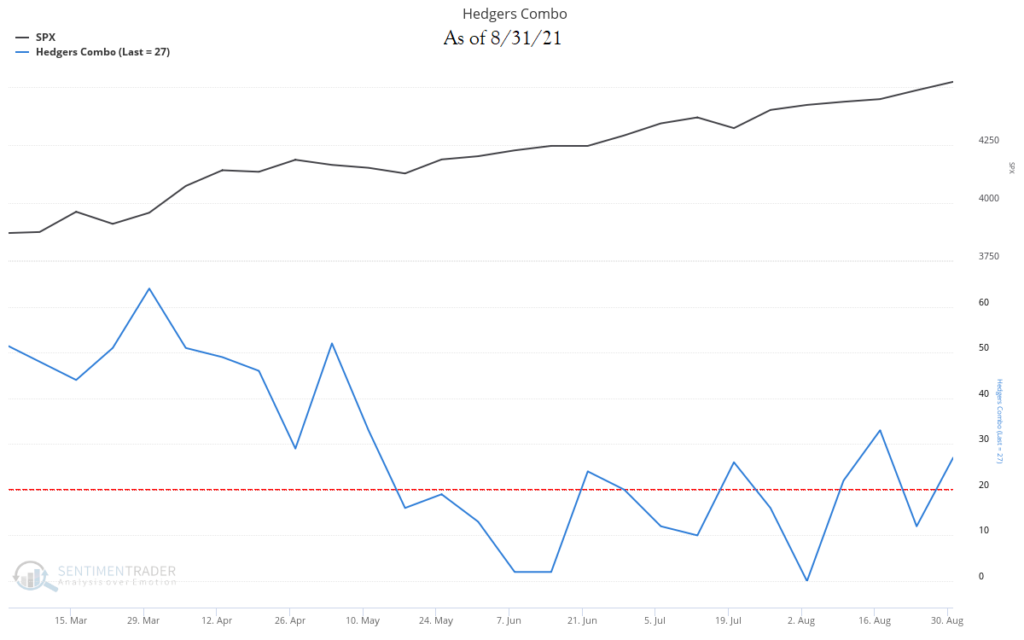 Sources: SentimentTrader.com & the Commodity Future Traders Commission (CFTC)
Investing today requires a customized financial plan integrated with a well thought out investment approach. If you have questions about how to invest or which investments may make sense for you, schedule an appointment by clicking this link or contact us today at david.cross@us-am.com or 678-894-0697.
All information contained herein is derived from sources deemed to be reliable but cannot be guaranteed. Financial data changes rapidly. All economic and performance data is historical and not indicative of future results. This material is of a general nature and intended for educational purposes only. This information does not constitute a recommendation or solicitation or offer of the purchase or sale of securities. Indexes are unmanaged and do not incur management fees, costs, or expenses. The Standard & Poor's 500 (S&P 500) is an unmanaged group of securities considered to be representative of the stock market in general. It is not possible to invest directly in an index.